MOD announces change of Joint Strike Fighter jet
The MOD will move away from the Carrier Variant (CV) JSF and our Armed Forces will instead operate the short take-off and vertical landing (…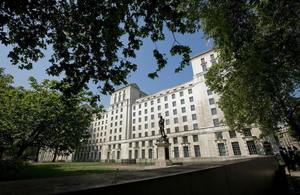 The MOD will move away from the Carrier Variant (CV) JSF and our Armed Forces will instead operate the short take-off and vertical landing (STOVL) variant.
Even with this change in JSF jet type, the MOD's plan to deliver Carrier Strike in 2020, as a key part of Future Force 2020, is still on schedule.
Speaking at the House of Commons this morning, Mr Hammond outlined the reasons this decision has been made. They included:
• sticking with the Carrier Variant would delay Carrier Strike by at least three years to 2023 at the earliest;
• the cost of fitting catapults and arrestor gear ('cats and traps') to the Queen Elizabeth Class carriers to operate CV aircraft has doubled from around £1bn to £2bn; and
• the STOVL aircraft offers the UK the ability to have an aircraft carrier available continuously. Although no decision on budgeting for crew and support costs will be taken until the next Strategic Defence and Security Review (SDSR) in 2015, the second carrier would be able to provide capability while the first vessel is in maintenance.
See Related Links to read Mr Hammond's statement in full.
The STOVL aircraft has made significant progress since the SDSR was published over 18 months ago and the US Marine Corps has conducted successful STOVL flights from their ships.
The UK will receive the first STOVL aircraft this summer and, as HMS Queen Elizabeth is due to arrive for sea trials in early 2017, UK STOVL flight trials will begin off the carrier from 2018.
The SDSR stated that we wanted to develop joint maritime task groups with our allies. Through the adoption of the STOVL aircraft, the UK will benefit from full interoperability with the US Marine Corps and the Italian Navy - both of which operate the STOVL aircraft.
Mr Hammond said:
The 2010 SDSR decision on carriers was right at the time, but the facts have changed and therefore so too must our approach. This government will not blindly pursue projects and ignore cost growth and delays.

Carrier Strike with 'cats and traps' using the Carrier Variant jet no longer represents the best way of delivering Carrier Strike and I am not prepared to tolerate a three-year further delay to reintroducing our Carrier Strike capability.

This announcement means we remain on course to deliver Carrier Strike in 2020 as a key part of our Future Force 2020.
Chief of the Defence Staff, General Sir David Richards, said:
Our Armed Forces have a successful history of operating short take-off and vertical landing aircraft and our pilots are already flying trials in this variant of the Joint Strike Fighter alongside our US allies.

These stealth aircraft will be the most advanced fast jets our Armed Forces have ever operated and I know they will do so with the greatest skill and professionalism.
Published 10 May 2012