MOD announces bidder shortlist for UK training estate contract
The Defence Infrastructure Organisation (DIO) has published details of the four bidders shortlisted for a new national contract to manage its UK training estate.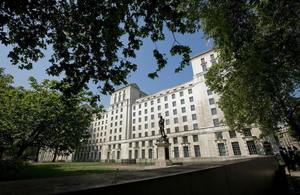 The contract is being developed and procured under the DIO's Next Generation Estate Contracts (NGEC) programme.
The National Training Estate Prime contract is worth up to £950m, covers approximately 200,000 hectares, and will provide services ranging from managing air weapons ranges to providing laundry services or clearing snow and ice.
Key sites will include Salisbury Plain, Catterick, Dartmoor, Sennybridge and Otterburn. The MOD has also created an option for elements of the Reserve Forces' and Cadets' Associations estate to be included in the contract scope.
The shortlisted companies are:
Babcock Support Services Ltd
Kellogg Brown & Root Ltd and Balfour Beatty Workplace Ltd
Landmarc Support Services Ltd
Serco Ltd, BAE Systems Surface Ships Ltd and Kier Regional Ltd.
Colonel Christopher Sloane, Commander Defence Training Estate, said:
Supporting our Armed Forces is the top priority for the Defence Infrastructure Organisation.

Military training is vital to the success of operations, which is why we need to provide excellent training facilities that enable our troops to learn and develop the skills that are essential if they are to meet their operational commitments at the highest professional standard.

A sound partnership with industry will be the key to supporting the training requirements of Defence. Industry will play a major role in running and maintaining the training estate, so it is vital that we identify the best possible private sector partner for this significant commercial arrangement.
Steve Rice, Head of the NGEC programme, said:
This contract covers a significant expanse of the Defence Estate, including a wide variety of built assets, types of terrain and service outputs, requiring a first-rate prime contractor that is ready to deliver innovation and value for money.
I am pleased that after a thorough evaluation of evidence submitted by the bidders we have achieved a strong shortlist of contenders. I would now urge smaller businesses to consider where and how they might contribute within supply chains, and to start liaising directly with the bidders.
Supply chain activities that businesses might like to consider include:
range and training area operations - provision of range warden duties, boundary signage, safety radar and surveillance equipment, advice and guidance on use of targets and targetry, provision of target designators and scoring technologies, provision of range communications facilities, provision of portable toilets, and disposal of military debris and explosive ordnance
rural estate management - services to the tenanted and hired estate, including rent collection, facility hirings, safeguarding activities such as responding to statutory consultations on town and country planning matters, and snow and ice clearance to maintain access to ranges
built estate management - allocation of accommodation, planned maintenance including cleaning, caretaking, waste disposal and recycling, and electrical distribution systems
forestry and conservation - long-term management plans for forestry and conservation, including forestry harvesting, scrub clearance, and pest and vermin control
catering - provision of a full meals service (food and ingredients are supplied under a separate MOD contract) in training camp dining rooms and canteens, and packed and container meals to troops deployed on training areas
national helpdesk - setting up and operating a 24-hour service covering maintenance and repairs and range bookings, including development and installation of networked hardware system
landscaping - maintenance of soft and hard landscaping on ranges (for example grass height to enable target visibility), dry stone walling, and of existing landscaped areas and fencing in built areas
heritage - development and implementation of long-term maintenance plans for Defence sites and assets of cultural and historical significance, and provision of archaeological services.
During the evaluation of potential bidders, the NGEC team used electronic tendering software to evaluate the evidence of capacity and capability submitted in pre-qualification questionnaires. This included financial standing, quality assurance, technical capability, health and safety, environmental management, and equal opportunities and diversity.
Representatives from the four bidding organisations will now be escorted on visits to provide familiarisation with the training estate and training activities before and during the 'competitive dialogue' process that will commence by mid-2012.
Published 2 February 2012