MOD and F1 motorsport race ahead to provide battlefield technology
Technology currently used in Formula 1 racing cars could help our troops on the front line, the MOD's Lord Astor has said.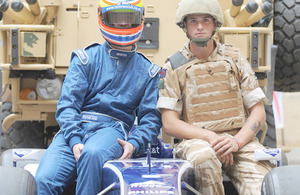 Cosworth, who supply Formula 1 engines and electronics, has been awarded two defence contracts to explore how technologies used to protect racing drivers could protect front line troops.
The first contract is for a military vehicle accident data recorder that could capture information about the severity of incidents, such as improvised explosive device (IED) blasts, and display it in a simple, easy-to-read format.
The data could be used to better understand the incident, aiding in the development both of equipment and the tactics, techniques and procedures used to counter IEDs.
The second contract is for a blast event and vehicle integrity system intended to allow a rapid assessment of the condition of a vehicle following an incident.
The information could be used by engineers to assess a vehicle's condition, and potentially spot 'hidden' damage, such as twisting of the chassis, more easily.
It could also be used by commanders in the field to inform decisions on the best course of action following a blast - whether to continue or to return to base for repairs, for instance.
It combines Cosworth's motorsport sensor and data acquisition technology with blast simulation modelling from GRM Consulting Ltd.
Lord Astor of Hever, speaking at a Motorsport Industry Association event at the House of Lords on Thursday 8 July 2010, said:
Marrying motorsport technology and military need is an exciting and innovative way forward.
In the Centre for Defence Enterprise the MOD has a very good mechanism for embracing cutting-edge research that could benefit our troops in the future.
Chief Executive of the Cosworth Group, Tim Routsis, said:
We are delighted to be using our electronics expertise to assist in the military's attempts to improve the safety of our troops in Afghanistan. It is encouraging to see how the MOD is recognising the potential of the technology available in businesses like Cosworth.
These contracts are just two examples of how working with the motorsport industry has provided enhancements to military equipment. Others include:
The NAR Group drew on their experience of supplying equipment for the Paris-Dakar Rally to design a new dust-proof cooling system now used on the Panther, Mastiff and Ridgback armoured vehicles, increasing the number of vehicles available for operations.

Lola Composites Ltd, who specialise in the manufacture of racing car bodies, are contributing their expertise in helping to build the Watchkeeper Remotely Piloted Air System.

Williams Hybrid Power Ltd has adapted its technology to develop an electromechanical flywheel to increase the power efficiency of diesel generators that power forward operating bases in Afghanistan.
Published 12 July 2010