Mitchell hails new, powerful agency for women
The Government today welcomed a new era for women in developing countries as UN members agreed details of a new UN agency for women and gender issues.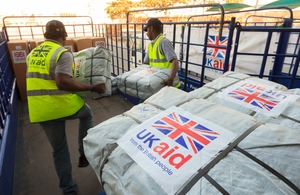 International Development Secretary Andrew Mitchell said he was relishing the opportunity to work with the single powerful agency which will have responsibility for promoting the rights of women across the world, and ensuring gender equality.
But Mr Mitchell also warned that the UN must capitalise on this success quickly and make appointing a strong leader a key priority. He also urged the UN to get started with delivering real change on the ground quickly.
The agency will merge four different UN bodies that had been responsible for women's rights. By bringing all the UN's gender work together, it will eliminate duplication and waste, ensuring more efficiency in how donor money is spent.
It will work directly with governments and NGOs in developing countries to change systems that discriminate against the poorest women on earth. It will also coordinate other parts of the UN such as UNICEF to ensure they are helping girls and boys equally.
The appointment of strong global leader will encourage developing country governments to deliver against international agreements they have signed up to on gender.
Andrew Mitchell said:
I am pleased that the intense negotiations of the last few weeks have been successfully concluded. We now need to see the establishment of a powerful agency that will promote and protect the rights of women all over the world.

Women in poor countries are particularly vulnerable to the effects of poverty, whether through, conflict, violence or poor job opportunities. My department will work closely with the new agency to ensure these issues are tackled.

The UK will be pushing hard for strong leadership, transparency and value for money from the agency.
Lynne Featherstone, Minister for Equalities at the Home Office said:
The UK fully supports the establishment of the UN Gender Entity. The creation of the new Entity presents a historic opportunity for the UN to deliver real progress on the Millennium Development Goals, gender equality and women's empowerment worldwide. The UK will be working tirelessly with key partners to ensure the Entity is up and running as soon possible.
FCO Minister of State, Jeremy Browne said:
I am delighted by the historic agreement reached today to establish, UN Women, a single, more powerful UN agency for women.

We know that millions of women and girls worldwide continue to fight for equal rights and equal opportunities, while facing unacceptable levels of violence and discrimination. This agency will provide renewed momentum to the international community's shared commitment to tackling gender inequality and empowering women.

I am determined that the UK will play a key role in ensuring the new agency delivers for the world's women.
Published 5 July 2010