Mitchell announces new mine clearance plans
The UK Government will overhaul its support for mine clearance programmes in order to focus on high impact zones.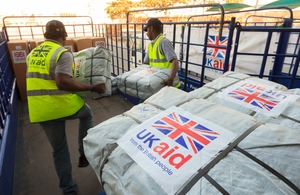 On a visit to Sudan, Andrew Mitchell, the International Development Secretary, today announced UK funding for mine clearance programmes which will be used in a more responsive and flexible way, considering factors such as:
The number of lives that will be saved;
The number of mines in the area - known as mine contamination;
The benefit to a community socially and economically; and,
The targeting of funding towards countries who are unable to fund their own mine clearance programmes or do not receive significant support from elsewhere in the international community.
Improved survey techniques mean that organisations now have accurate information to target areas where mines will potentially do the most damage to communities.
Andrew Mitchell is visiting Sudan as DFID increases its focus on the country as progress towards the Referendum reaches a critical point and a successful outcome hangs in the balance.
In Sudan UK-funded action will now release 2.5 million square metres of land, destroying a minimum of 30,000 explosive remnants of war. 75 local people will be trained on technical areas relating to demining, and around 81,000 people will benefit from Mine Risk Education.
In addition to existing support for Afghanistan, UKaid will be used to clear mines and other devices in Cambodia, DRC, Iraq, Lao PDR, Mozambique, Sri Lanka, Sudan and Vietnam.
In 2008, approximately 100 people per week were killed or injured by landmines or other explosive remnants of war. After working men, children were most likely to be killed or maimed by the devices.
Speaking from Juba, Sudan, Andrew Mitchell said:
"Mines are the scourge of ordinary people trying to make a living in post-conflict countries.
"It is particularly distressing that children are the second most likely group of people to be maimed or killed by mines as they may not be able to read danger signs and their natural desire to play takes over.
"Here in Sudan, UKaid will help clear 30,000 devices which will free up 2.5 million square metres of land. We are also committed to helping the people of Sudan tackle this menace themselves by providing training for clearance specialists and mine education for communities.
"We want to fund work in areas where demining will not only save lives, make journeys to schools and hospitals safer and but also ensure the largest areas of land can be used to benefit local economies.
"This funding will enable the dedicated mine clearance organisations to build on their lifesaving work. Their efforts will protect the lives, limbs and livelihoods of thousands of people and will improve social and economic prospects in areas currently riddled with mines.
"We can look to Rwanda which was officially declared mine free in 2010, as an example of what can be achieved through the bravery and diligence of skilled demining experts."
Published 10 November 2010