Ministry of Defence Permanent Secretary moves on
The Secretary of State for Defence has today announced that the Permanent Under Secretary of the Ministry of Defence Ursula Brennan is to move to take up the post of Permanent Secretary at the Ministry of Justice (MOJ) from 2 July 2012.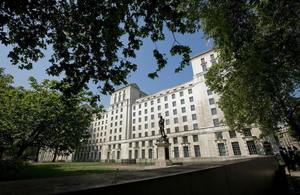 The MOD's Director General for Security Policy, Tom McKane, will become the acting Permanent Secretary while a competition is conducted to appoint Mrs Brennan's replacement.
Mrs Brennan was appointed Permanent Secretary at the MOD in November 2010 having worked as the Department's 2nd Permanent Secretary since October 2008. During her time she has been a key driver in reforming and reshaping Defence so that the Department can continue to take on future challenges.
In a message to staff, Ursula Brennan said:
I have been proud to lead the MOD as its Permanent Secretary and Accounting Officer through a period of remarkable change. It has been a privilege to work with so many talented and dedicated people here at the Ministry of Defence. I extend my thanks to all of those military personnel and civil servants who have worked tirelessly to deliver on operations and to modernise the Department.

Organisational change is never straightforward, and often painful; for Defence there has been the added challenge of seeking to transform the Department while maintaining focus on the Main Effort of success on operations.
It is a remarkable achievement for all those who work in Defence that together we have laid the foundations on which we can build the future force structure required to deliver the SDSR [Strategic Defence and Security Review].

Everyone is aware that resources will continue to be under real pressure and I know that the Secretary of State, my successor and the whole Department will continue to work hard to use them effectively.

I am confident that the Ministry of Defence is in a good place to deliver strategic effect on operations around the world with the support of a significantly improved and more efficient Department.
The Defence Secretary, Philip Hammond, said:
I congratulate Ursula Brennan on her appointment at the MOJ and wish her every success in the future. She has achieved a great deal in the MOD at a very challenging time and has provided excellent support to me and my predecessor.
Balancing the budget has been a huge achievement and Ursula has played a critical role in its delivery. She can be rightly proud of all her achievements at Defence as she looks forward to fresh challenges at the MOJ.
Tom McKane said:
I congratulate Ursula and wish her well as she moves to the MOJ. I look forward to continuing her work as the acting Permanent Secretary until her substantive replacement is appointed.
Mrs Brennan is a career civil servant who has worked in a variety of Departments. She spent much of her career in what is now the Department for Work and Pensions; prior to joining the MOD in 2008 she worked in the Ministry of Justice.
Head of the Home Civil Service, Sir Bob Kerslake, said:
I am delighted to announce that Ursula will be taking up the reins at the Ministry of Justice. Her experience in this area will be invaluable in helping deliver the Government's ambitious agenda for the delivery of justice services. I am very grateful to her for her hard work at the Ministry of Defence. I look forward to working with Ursula in her new role.
Published 12 June 2012