World news story
Ministry of Defence Director visits Croatia
Nick Gurr, United Kingdom Ministry of Defence (MOD) Director for International Security Policy, visits Croatia.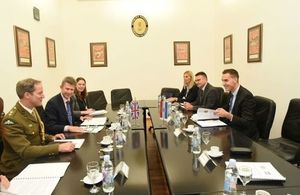 On his two-day visit to Zagreb, Croatia, Mr Gurr had the talks with Defence Ministry and the Foreign Affairs Ministry, as well as with the Prime Minister's foreign affairs advisor. The talks focused on bilateral relations, but also cooperation within NATO. Mr Gurr said:
The meetings were extremely constructive and productive; we've identified a number of areas where we think we could work together more, on defence collaboration issues across the whole spectrum of activities. We also talked a lot about the common threats and challenges that we face as partners of the European Union and as allies in NATO.
Military cooperation between the two countries has been steadily improving, not only because the their forces work together in Afghanistan. Croatia provided an officer to the ARRC and has decided to contribute to the UK Framework Nation VJTForce in 2017. For the third year now, UK Army Reserve troops have been coming to Slunj for the Exercise Sava Star.
As Mr Gurr said:
We have found these exercises extremely valuable; we are grateful to Croatia for making the facilities available; they are excellent facilities and we look very much forward to continuing.
Published 2 October 2015