Press release
Ministers welcome Syrian families ahead of their first Christmas in the UK
Communities Secretary Greg Clark met Syrian refugee families in Kent yesterday (22 December 2015) ahead of their first Christmas in the UK.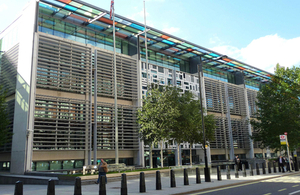 A thousand Syrian refugees are in the UK as part of the government's pledge to resettle them in time for Christmas through the Vulnerable Persons Resettlement (VPR) scheme.
Refugees have been arriving in the UK over the last 3 months as part of a carefully co-ordinated approach working with local authorities.
Minister for Syrian Refugees Richard Harrington spoke at an event yesterday for local authorities in the South East region and their partners on sharing experiences in helping refugees resettle into the UK.
Communities Secretary Greg Clark said:
The families I have met in Kent have said they feel welcomed and are getting settled into life ahead of the Christmas period.

The government has provided funding so these vulnerable refugees can get the housing, healthcare, education and support they need.

I would like to thank colleagues in local government and their partners who have helped resettle 1,000 Syrian refugees in the UK in time for Christmas.

On behalf of British people I wish all Syrian refugees a happy Christmas and a big welcome to the UK.
Richard Harrington, Minister for Syrian Refugees said:
Since the Prime Minister made the announcement to resettle 20,000 Syrian refugees we have been working closely with local authorities and partners to ensure we prepared for their arrival to this country.

I wish all Syrian refugees the warmest of welcomes and a Merry Christmas as they spend their first Christmas here in the UK.

We have met the Prime Minister's target to resettle 1,000 Syrian refugees by Christmas and we intend to resettle another 19,000 over the course of this Parliament.
David Simmonds, chairman of the Local Government Association's Asylum, Migration and Refugee Task Group, said:
Councils have an excellent track record in supporting refugee children and their families over many years and have worked hard to ensure 1,000 Syrian refugees are settled safely in the UK before Christmas.

Councils are part of national arrangements for supporting refugees and will continue to work with government on the future of the resettlement programme in 2016 and beyond.
Rick Coates, Chairman of Solidarity said:
This year, because of Near Neighbours funding, we can introduce new arrivals to different aspects of British culture, like the pantomime, which everyone can enjoy together. We are very grateful to Near Neighbours for helping us do this this Christmas.

We always have a very wide range of people coming along to our events, in terms of countries and cultures and faiths. But whatever people's religions or backgrounds, everyone can share in the Christmas spirit.
More than 50 local authorities from across England, Scotland, Northern Ireland and Wales have welcomed vulnerable Syrian refugees.
The government will resettle a further 19,000 Syrians across the UK before the end of this parliament through the VPR scheme.
Supporting Syrian refugees settle into the UK
More broadly, in Bury, the Bury Committee in Solidarity with Asylum Seekers and Refugees (Solidarity) and Radcliffe Churches Together is working with the not-for-profit organisation, Near Neighbours to provide support and events for refugees settling in the borough.
This month as a result of Near Neighbours funding a special event was held by Solidarity in collaboration with the Rochdale Theatre Group to celebrate the Christmas spirit including a pantomime.
The VPR scheme is just one part of the government's comprehensive approach to the Syrian crisis, which has seen the UK become the second biggest bilateral aid donor with £1.1 billion in aid pledged to date.
Further information
Near Neighbours was set up in 2011 in partnership between the Church Urban Fund and the Archbishop's Council and is funded by the Department for Communities and Local Government.
The Near Neighbours' grants were first targeted in 4 areas: the M62 'mill towns' of Bradford, Burnley, and Oldham; Leicester and selected boroughs and wards in east London and Birmingham.
Last year the department boosted the fund by a further £3 million, to bring the total funding to £8 million and expansion to 9 new areas – Luton, Rochdale, Bury, Dewsbury, Leeds, Nottingham, north and west London and the Black Country.
Solidarity received the maximum £5,000 grant to host free monthly socials where refugees and their children can meet, make friends with local people and receive practical support.
They have been hosting such socials for a number of years, but will use funding from Near Neighbours to expand this work to include Syrians and Eritreans.
See further guidance for local authorities and partners on the Syrian vulnerable person resettlement programme.
Office address and general enquiries
2 Marsham Street
London
SW1P 4DF
Contact form http://forms.communiti...
General enquiries: please use this number if you are a member of the public 030 3444 0000
Published 23 December 2015