Press release
Ministers welcome continuing investment in widening participation for higher education
Gvernment welcomes news that institutions are continuing to invest in widening participation for higher education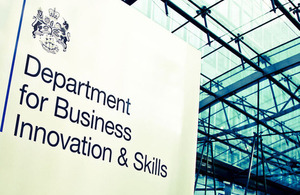 The government today welcomed news that institutions are continuing to invest in widening participation. The figures have been released through the monitoring report produced today by HEFCE and OFFA.
The report included monitoring for the National Scholarship Programme (NSP). The NSP supports eligible students from disadvantaged backgrounds and will help almost 35,000 people in its first year. This is on track with targets for the scheme to reach up to 100,000 students by 2014/15.
The government has provided £50 million to the initiative, which will rise to £100 million in 2013/14 and £150 million in 2014/15.
To help make progress in the numbers of young people entering Higher Education from disadvantaged backgrounds the government has established a new framework, with increased responsibility placed on universities to widen participation. This includes arrangements for new annual access agreements as well as the NSP.
Commenting on the reports, Secretary of State for Business Vince Cable said:
I have always said that going to university should be about ability, not ability to pay. So it's encouraging that the National Scholarship Programme has helped more than 35,000 students from poor backgrounds in its first year. This has been supported by over £130 million investment from government and institutions.
Universities and Science Minister David Willetts said:
This report highlights how our reforms are putting students at the heart of the system. We are making progress in ensuring talented people from disadvantaged backgrounds make it to university. This year the proportion of applications for the most disadvantaged 18 year olds was at its highest level ever but we are not complacent, more needs to be done.
We are giving people from all backgrounds the chance to study and that is why we have increased maintenance grants, introduced a more progressive student loans system, extended help to part-time students and developed the National Scholarship Programme.
Notes for editors
1.The government's economic policy objective is to achieve 'strong, sustainable and balanced growth that is more evenly shared across the country and between industries'. It set four ambitions in the 'Plan for Growth' (PDF 1.7MB), published at Budget 2011:
to create the most competitive tax system in the G20
to make the UK the best place in Europe to start, finance and grow a business
to encourage investment and exports as a route to a more balanced economy
to create a more educated workforce that is the most flexible in Europe.
Work is underway across government to achieve these ambitions, including progress on more than 250 measures as part of the Growth Review. Developing an Industrial Strategy gives new impetus to this work by providing businesses, investors and the public with more clarity about the long-term direction in which the government wants the economy to travel.
Published 6 June 2013