Ministers welcome appointment of new head of UN Women
Former Chilean President Michelle Bachelet has been appointed to head UN agency for promoting women's equality.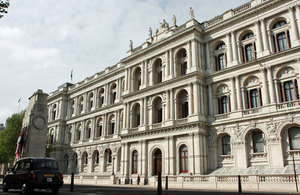 In a joint statement by Foreign Secretary William Hague, International Development Secretary Andrew Mitchell and Minister for Women and Equalities Theresa May said:
"The appointment of Michelle Bachelet as the head of UN Women sends out a positive message about the UN's commitment to gender equality. She brings with her experience at the highest political level coupled with a track record of work for women's rights.
"The UK Government looks forward to working with Ms Bachelet as she uses her leadership skills and international profile to shape UN Women's vision and strategies for promoting equality in developing and developed countries alike. We expect UN Women to establish itself quickly, deliver results for women and demonstrate value for money for every penny it spends. It should also act as a beacon for strong, positive leadership to promote women's rights across the whole UN system.
"Women's rights are central to establishing a fairer global society, free from discrimination and grinding poverty. The UK has been at the forefront of the creation of UN Women and we will continue to promote the rights of women in the face of violence, economic insecurity and prejudice."
Search the news archive
Published 14 September 2010