Press release
Ministers take part in the Big Iftar at mosques across the country
Eric Pickles and Baroness Warsi attended Big Iftar events on Saturday 27 July.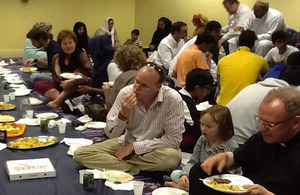 As the holy month of Ramadan draws to a close, Communities ministers attended 'Big Iftar' events on Saturday 27 July 2013.
Communities Secretary Eric Pickles joined Muswell Hill's Bravanese Somali Community, whose Islamic centre was gutted by fire last month, at a Big Iftar hosted by the nearby Al Khoei Foundation.
Faith Minister Baroness Warsi visited Leeds Makkah Mosque, which was attended by over 200 people of different faiths.
During Ramadan, mosques are opening their doors and welcoming those from all faiths and none to join in the fast-breaking meal of the iftar – the special daily meal that is consumed at the end of each day when fasting finishes. The aim is to dispel any myths about the practices of Islam and to bring communities closer together.
The Secretary of State said:
It was terrific to attend the Big Iftar with the Muswell Hill community and the Al Khoei Foundation, and experience the hospitality of the local community, whilst seeing people of all different faiths and backgrounds come together to share this holy occasion.

Everyone had a fantastic time and I saw people who had never been to a mosque before learning about Ramadan and forming new friendships.

What was particularly heartening was the defiance of this community, whose centre was burnt down last month, who showed that they would carry on celebrating and sharing this holy festival despite their setback.

I hope the Big Iftar becomes a permanent fixture in the calendar and that even more mosques take part next year.
People of all faiths and none, who may have never been to a mosque before, or experienced an iftar, have been attending these local events to experience what this celebration is really like, whilst forming relationships with their local neighbours and community at the same time.
Faith Minister Baroness Warsi said:
The Big Iftar is a fantastic way of enabling people of different religions, and those of no faith, to visit a local mosque, learn about their role in the community and enjoy some traditional and delicious food.

It was great that so many people attended and enjoyed the Big Iftar in Leeds – showing the enthusiasm from guests to form new mutual friendships and learn from each other.

As the holy month of Ramadan enters its last week, I'm delighted that so many multi-faith iftars have taken place across the country.
Popular flash mob iftars have also been taking place during the day at accessible venues such as public parks and open spaces, for those who are unable to visit a mosque in the evening when the iftar happens.
These spontaneous events saw up to 200 people attend Lincoln's Inn Fields – a public park in central London – where the theme was 'iftar with the homeless' which brought everyone together to help those less fortunate. Communities Minister Baroness Hanham will be attending the next one on Tuesday 30 July.
Social media played a crucial part in the organisation of the Big Iftar as people have organised and attended events using twitter and Facebook whilst sharing their experiences and photos.
Further information
Big Iftar events have taken place at scores of mosques and cultural centres across the country during Ramadan 2013.
For more information visit:
Over 35 Big Iftar events have taken place around the country and many other organisations have run over 100 multi-faith iftars.
Muslims fast for 30 consecutive days during Ramadan, from dawn until sunset. Iftar is the special meal prepared daily at the end of the day when the fast finishes.
Published 29 July 2013