Government response
Ministers respond to false alarm of fire service 'privatisation'
Fire Minister and Minister for the Cabinet Office say attempts to characterise employee-led mutualisation as privatisation are wrong.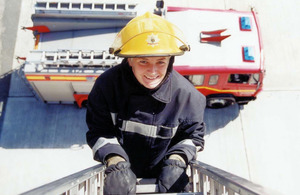 Fire Minister Brandon Lewis has responded to claims that the government is considering the privatisation of the fire service stating it is "entirely untrue". The government is actually working to support local mutuals and co-operatives.
The government is working to support local fire and rescue authorities that want to find new and innovative ways of delivering their service, including removing barriers for employee-led mutuals. The decision to mutualise will always be made by individual fire authorities. This is part of a wider government efforts to support mutuals and co-operatives delivering public services.
Cleveland Fire and Rescue Authority have said they are about to start talking directly to staff and unions about the possibility of becoming a mutual. This is not about privatisation, but rather operating in a way that ensures the public are protected by robust and efficient services.
Local authorities will remain statutorily responsible for fire and rescue services even with mutualisation, and will remain accountable to local councillors.
Fire Minister Brandon Lewis said:
"Any attempt to characterise local plans for an employee-led mutual as privatisation are completely misleading. Public safety is always our first concern and we continue to work with fire and rescue authorities to ensure they provide the most efficient and effective frontline fire service there can be.
"Fire and rescue authorities will remain statutorily responsible for this public service and to suggest otherwise is completely wrong. The government does support co-operatives and employee ownership. We are keen to work with local authorities and their staff wanting to explore the scope for employee-led mutuals where there is local support and backing."
Francis Maude, Minister for the Cabinet Office, added:
 "Mutuals end the old binary choice between state and privately run public services. This is about frontline staff taking control and having power to do their jobs how they know is best. Across the public sector thousands of employees are forming mutuals and taking control because they're fed up with the wasteful bureaucracy imposed on them by the state and know they can do better. Cleveland Fire Brigade is exploring plans motivated entirely by their determination to protect and grow services for local people."
The Cabinet Office announced in September last year that Cleveland firefighters' plan to take ownership of their brigade and run it as a mutual business.
Published 14 February 2013