News story
Minister's marathon tour to the heart of the roads revolution
Roads Minister experiences first hand the challenges of managing England's motorway network.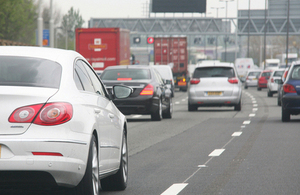 Roads Minister John Hayes has embarked on a marathon 26-mile tour of major motorways in the West Midlands – the birthplace of the roads revolution (4 September 2014).
John Hayes – who took up his post at the Department for Transport in July – drove along sections of the M42, M6 and M5 with Highways Agency traffic officers to understand the challenges posed by one of the busiest parts of England's motorway network.
The West Midlands pioneered the development of 'smart' motorways, which use the hard shoulder as a running lane to boost capacity and cut congestion. Thanks to a successful pilot scheme on the M42 the concept has since been extended across the country.
The minister also visited the Highways Agency's National Traffic Operations Centre, where activity on motorways and major A roads across the country is coordinated, and the West Midlands Regional Control Centre, where traffic officers who patrol the local network are based.
The government has committed around £1 billion to major improvements of the road network across the Midlands to add 118 extra lane miles of capacity. The next 6 years will see another £15 billion spent on renewing and improving England's road network, with 8 new schemes worth £1.2 billion already announced for the Midlands.
John Hayes said:
It is genuinely inspiring to see what a difference smarter roads can make. The impact of the investment this government has made in the West Midlands over the next 6 years will be huge - millions of road users will experience better journeys with much reduced congestion, which is estimated to cost over £2 billion every year.

The region has led the way in England's roads revolution with the first congestion-crunching smart motorway opening on the M42.

I was also hugely impressed with the dedication and expertise of the people behind the scenes in the national control room, whose efforts make better roads and safer journeys for all road users.
Roads media enquiries
Media enquiries 020 7944 3021
Out of hours media enquiries 020 7944 4292
Switchboard 0300 330 3000
Published 4 September 2014