News story
Ministers in Luxembourg for General Affairs and Foreign Affairs Councils
Foreign Secretary William Hague is joined by Europe Minister and Secretary of State for International Development at EU meetings.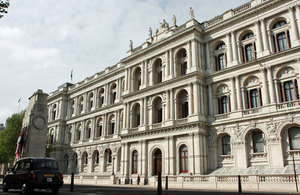 Foreign Secretary William Hague, Minister for Europe David Lidington and the Secretary of State for International Development, Andrew Mitchell are all attending the General Affairs and Foreign Affairs Councils in Luxembourg on 14 June.
The two meetings are held on a monthly basis. The General Affairs Council (GAC) deals with issues such as EU enlargement, the coordination of work on selected policy areas and preparations for meetings of the European Council. The Foreign Affairs Council (FAC) tackles EU external action, foreign and security policy, trade and international development.
In a Written Ministerial Statement, published on the 10 June, Europe Minister David Lidington outlined the agenda for the two meetings in Luxembourg. He stated that the Foreign Affairs Council would include discussions on Iran, the Western Balkans, Somalia and the Middle East Peace Process. Turning to the General Affairs Council, the Minister outlined that the General Affairs Council would include discussion of the draft council conclusions for the June European Council (to be held on 17 June), and exploring the European Commission's dossier on the European Citizens' Initiative.
Published 14 June 2010