News story
Ministers get hands-on at games showcase
Business Minister Mark Prisk and Creative Industries Minister Ed Vaizey viewed games from trailblazers including Mind Candy, Codemasters, Mediatonic…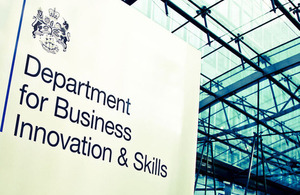 Business Minister Mark Prisk and Creative Industries Minister Ed Vaizey viewed games from trailblazers including Mind Candy, Codemasters, Mediatonic and Frontier Developments, and saw for themselves examples of the latest software available to the public.
Held in association with the UK Interactive Entertainment Association (UKIE), the 'Your UK Games Industry' showcase at the Department for Business, Innovation and Skills is designed to celebrate the design and innovation of video games in this country, and the career prospects that it has to offer.
Commenting on his visit to the showcase, Business Minister Mark Prisk said:
"We have a games industry we should be proud of here in the UK. Games produced in this country generated £1.7bn in sales worldwide in 2009 and we are the biggest games developer base in Europe.
"It's easy to sit down and enjoy the various games available on the market, but what people forget is that there is a lot of work and creativity that goes into making these possible.
"Approximately 28,000 people work in the games industry in the UK, so what this showcase is helping to demonstrate is that there are real career prospects and business opportunities that support growth."
Creative Industries Minister Ed Vaizey, said:
"The Government is committed to supporting this dynamic industry and I am delighted the Chancellor announced this week that we will introduce a tax relief for video games production, following consultation."
Dr Jo Twist, CEO of games industry trade body UKIE, said:
"The interactive entertainment industry is one the UK's most cutting edge and fastest growing sectors, capable not only of delivering world class digital entertainment which is scalable internationally but that can also provide high quality career opportunities for the next generation.
"More and more people are playing video games. The market for games has evolved so that there really is an interactive entertainment experience for everyone, across a growing number of formats; whether that be the still strong console market, or digital platforms - cloud-streaming, applications on phones and tablets or browser based social games. "
The 'Your UK Games Industry' exhibition is on display until 30th March.
Notes to editors:
For information on government support for the video games industry please contact Ken Hunt on 020 7211 6145 or ken.hunt@culture.gsi.gov.uk

Images from the showcase can be downloaded here.

BIS's online newsroom contains the latest press notices, speeches, as well as video and images for download. It also features an up to date list of BIS press office contacts. See [http://www.bis.gov.uk/newsroom](http://www.bis.gov.uk/newsroom) for more information.
Notes to Editors
Contact Information
Name BIS Press Office Job Title
Division COI Phone
Fax
Mobile
Email NDS.BIS@coi.gsi.gov.uk
Name Andy Aston Job Title
Division Department for Business, Innovation & Skills Phone 0207 215 6963 Fax
Mobile
Published 23 March 2012