Press release
Ministerial support for rape and sexual violence victims
Victims' Minister Mike Penning saw first hand today how government money has been used to help those who need it most with vital help and support for victims of rape and sexual violence.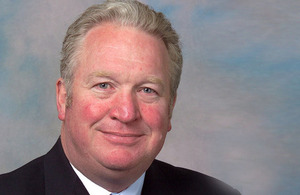 The minister met staff and volunteers at the Birmingham Rape and Sexual Violence Project (BRSVP) as part of a visit to the West Midlands where he was able to see how Ministry of Justice (MOJ) funding helps create a safe and secure environment for vulnerable victims to help them move on with their lives wherever possible.
This money compliments a wider package of reforms to smooth the path to justice for victims of crime, including doubling the amount available under this government for a wide range of support services to more than £92 million next year (2015/16) to give victims access to the best possible support, no matter where they live in the country, and help ensure they are not alone in coming to terms with the impact of crime.
Victims' Minister Mike Penning said:
The government knows that victims of heinous crimes like rape and sexual abuse need specialist support to help them cope and recover which is why centres like this one in Birmingham are invaluable in helping men, women and children get their lives back on track.

We also know that support is best provided close to home in a safe and secure environment which is why I'm proud to say that we have delivered on our pledge to put rape support centres on a more secure financial footing as well as help establish 15 new ones. There are now 84 across England and Wales, with two more soon to follow, and we are cementing this by spending more than ever – more than £92 million in 2015/16 - to put victims at the forefront of criminal justice reform.
BRSVP, which has been supporting victims of rape and sexual violence for more than 30 years, received £90,000 of MOJ funding in 2014/15 which will support women who have been the victims of rape or sexual violence. A further £160,875 was distributed to the centre via West Midlands PCC (Police and Crime Commissioner) as part of the MOJ's Competed Fund and will help fund one to one and group sessions for men and women, and an outreach project in nearby Solihull which means victims can seek the help they need closer to home.
Further help provided by the centre includes counselling sessions, a phone line and social groups as well as a service for victims to photograph their injuries which can be used as evidence if a crime is reported to police. One to one and group support are also available for asylum seekers and refugees who have been the victim of sexual violence or rape in any country.
MoJ funding for the centre will continue through 2015/16 with £60,000 from the department's Female Rape Support Fund which will ensure as many women and girls as possible are receiving the crucial help they need.
More than £4 million a year has been provided to female Rape Support Centres in England and Wales since 2011 through the Rape Support Fund.
This increased to £4.4 million last year after funding for 2 further centres was agreed, which will help more victims recover from their devastating ordeal. This brings the total number of centres funded through the Female Rape Support Fund across the country to 86, including the creation of 15 new centres since 2010, and means women and girls have crucial access to counselling, advice, peer support and drop-in groups.
In December 2014 we also announced an uplift to all Female Rape Support Centres totalling £2.15 million meaning more victims of sexual assault will have access to specialist help than ever before.
These centres will be supported by a package announced in September 2014 which unveiled a renewed commitment to victims with a major set of reforms. Victims will have the right to tell the court how their crime has affected them set out in statute; a new nationwide Victims' Information Service will be set up to ensure better information and support is available in one place rather than scattered across the internet; and publicly-funded advocates will undergo specialist training before taking part in sexual abuse or rape trials, which will make going to court easier and less distressing for victims.
Notes to Editors
BRSVP received £60,000 from the Female Rape Support Fund in 2013/14, 2014/15 and 2015/16; a £30,000 uplift in 2014/15; and £160,875 in 2014/15 from the MOJ's Competed Fund.
The MOJ has set aside a total of more than £4million a year since 2011 to fund existing female rape support centres. The Coalition Agreement also pledged to set up 15 new centres which we have delivered on.
These have been set up in Reading, Avon and Somerset, Preston, Lincoln, Trafford, Northumbria, Leeds, Southend, Ipswich, Aberystwyth, Hereford, Exeter and Poole. The 2 further centres will open in Crawley and Grantham.
As pledged by this government in 2012, from April 1 all PCCs will take full responsibility for funding local services; cementing the government's commitment to put victims at the forefront of criminal justice reform by ensuring support services can be tailored to meet the individual needs of communities across England and Wales.
As also set out at that time, some victims' services will continue to be commissioned centrally to ensure their services are available across England and Wales due to the severity of the crime. This includes the nationwide Homicide Support Service, and funding for Rape Support Centres.
The total funding available in 2015/16 will be £92.235 million. This is more than double the £40.52 million in 2009/10.
Of this, PCCs will receive £63.15 million which includes £1.35 million to support victims of sexual violence and domestic violence. 2015/16 PCC budgets are £2.35 million more than the indicative budgets they were provided with in 2014 which stood at £60.8 million. This additional funding was able to be allocated by extra penalties collected through the Victim Surcharge and Prisoner Earnings' Act.
We have also created the first ever Male Rape Support Fund of more than £1million to fund specialist support for male victims of rape and sexual violence.
Earlier this year we outlined our commitment to victims. See here for more.
For more information contact MOJ external communications officer Rebecca Gough on 020 3334 3506 or email Rebecca Gough.
Published 5 March 2015