Minister welcomes the Convention on Cluster Munitions entering into force
Foreign office Minister Alistair Burt has welcomed the entering into force of the Convention on Cluster Munitions.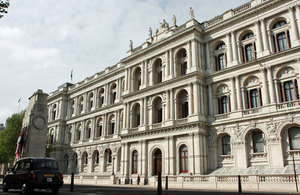 The Convention on Cluster Munitions was opened for signature in December 2008. Since then 106 countries have signed the Convention, whilst 37 have also ratified.
The Convention enters into force for the first ratifying states on 1 August. Speaking about this progress, Alistair Burt said:
"I warmly welcome the entry into force of the Convention on Cluster Munitions on 1 August 2010. The Convention is one of the most significant disarmament treaties of recent years. Prohibiting the use, development, production, transfer, and stockpiling of cluster munitions, it sets new standards for disarmament and advances international humanitarian law.
The Convention is an excellent example of what can be achieved by the international community working together effectively. With entry into force we are a step closer to a worldwide ban and ending the unacceptable suffering to civilians caused by these weapons.
The UK will continue its efforts to promote the globalisation of the Convention, working toward the goal of universal adherence. I look forward to the UK continuing our leading role in this area at the first meeting of State Parties in November, in Laos PDR."
The UK became the 32nd state to ratify the Convention on 4 May 2010. The Convention's prohibitions are implemented in UK law through the Cluster Munitions (Prohibitions) Act 2010. The Act makes it illegal for UK citizens to manufacture, use or transfer cluster munitions in the UK or anywhere else in the world.
Published 30 July 2010