Minister welcomes partnership approach by police
Nick Herbert visited Warwickshire Police and West Mercia Police to see how they deliver more effective services for their communities.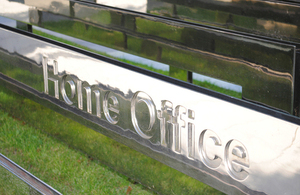 Mr Herbert met with Warwickshire's new chief constable, Andy Parker and toured the Warwickshire Criminal Justice Centre at Leamington.
The Justice Centre and its counterpart in Nuneaton are unique in the UK, bringing Criminal Justice Agencies (Police, Probation, Her Majesty's Courts Service, Youth Justice Service and Crown Prosecution Service) and victim services together under one roof.
The Minister for Policing and Criminal Justice also spent time with police officers and staff based in Leamington and visited the town centre with members of one of the force's 33 Safer Neighbourhood Policing Teams (SNTs).
Maximising resources
Mr Herbert said: 'Closer working arrangements can maximise the resources available to protect communities from harm, as well as tackle cross-border and other criminality more effectively.
'British policing at its best is strongly grounded in local communities and these arrangements maintain local governance, chief constable accountability to local communities and the identities of both forces.'
Published 2 December 2011