Minister welcomes order to withdraw South Sudanese troops from Heglig
Minister for Africa Henry Bellingham described the news as an "important step" towards lowering tensions between the two countries.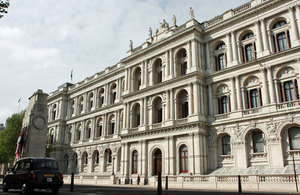 Speaking today the Minister for Africa said:
"I welcome the news that President Kiir of South Sudan has ordered his armed forces to withdraw from Heglig. This is an important step towards lowering tensions and allowing the resumption of negotiations between the two countries. It is now critical that the withdrawal takes place within the announced timetable, and that the Sudanese Armed Forces show restraint in the coming days.
"Sudan must also immediately cease all military action across the border, in particular bringing an end to aerial bombings of South Sudan's territory.
"The need for both Governments to come together and resolve their differences through constructive dialogue remains urgent. I now call on both sides to reactivate their discussions on borders and security, to agree on the immediate establishment of the Joint Border Verification and Monitoring Mechanism, and to redouble their engagement with the African Union High Level Implementation Panel."
Published 20 April 2012