Minister welcomes Australian team to Tonbridge
The Australian athletics teams were welcomed to their Olympic base at Tonbridge School today, by Communities Minister Greg Clark. The 500-year…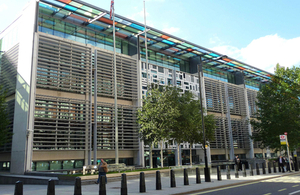 The Australian athletics teams were welcomed to their Olympic base at Tonbridge School today, by Communities Minister Greg Clark.
The 500-year old school will be the base for around 100 athletes and officials from the athletics squad, who will stay in two boarding houses and use the running track and sports facilities.
Marking Host a Nation Week, Mr Clark said it was an honour for Kent to host the Australian team, and their presence would help inspire a great Olympic legacy for the local area.
Australia's athletes, who took part in a Q and A and training session with local school children, will train, eat and sleep in the school before moving to the Olympic village shortly before their events start.
Stars staying at Tonbridge School will include Australian team captain Steve Hooker, who will be defending his Olympic pole vault title in London, as well as world discus champion Dani Samuels and Olympic hurdles silver medallist Sally Pearson.
Communities Minister Greg Clark said:
It's a great honour that the Australian team have chosen to base their athletics team at Tonbridge School. The school has a rich sporting heritage, and now a new generation of pupils and local residents will be inspired by elite athletes training and preparing for the Games. I know the team will enjoy their stay here, and I wish them the very best for the weeks ahead.
Earlier in the day Greg Clark attended a Torch Relay event in Tunbridge Wells, and handed out local Sports England awards in Maidstone as more than £4.7 million of new funding was announced for the Places People Play legacy programme in the South East.
Mr Clark added:
It's great that so many local projects are going to benefit from this funding - there are three in this area alone. There is another £10 million available which is going to provide a great Olympic legacy for local sports clubs so I would encourage everyone to apply.
Cllr Maria Heslop, Tonbridge and Malling Borough Council's Cabinet Member for Leisure, Youth and Arts, said:
The arrival of the Australian team is a fantastic opportunity to put Tonbridge and Malling on the international map. We are also delighted to welcome one of the UK's most famous Olympians Dame Kelly Holmes, who will be holding the Olympic Torch in Tonbridge today, shining a light on all of the opportunities the borough has to offer.
Australian Olympic Team Manager Susan Hobson, said:
The facilities and staff at Tonbridge School are world-class and you can't ask for anything more than that when preparing for the greatest sporting event on the planet. We have been welcomed with open arms, accommodated across the board and even the weather has been marginally better than elsewhere in the country, so we couldn't be happier.
Tim Haynes, Headmaster of Tonbridge School, said:
We are delighted to welcome the Australian Olympic athletes to Tonbridge. We are very proud of our fine sporting facilities at the school and we hope that they provide the very best setting for their final schedule of training.
Host a Nation week, which runs from now until the 22 July 2012, encourages local communities who are hosting Pre-Games Training Camps to capitalise on the longer-term opportunities created by the Olympics.
The programme encourages communities to build on links and to create cultural, sporting or business links with visitors from abroad. These could include music, film or food festivals, school events, or using UKTI's British Business Club to promote local areas and create strong trading links with new partners.
Notes to editors
For more information please view the original article (external link) on The Government Olympic Communication (GOC) online newsroom. GOC provides an integrated press office service on behalf of all UK Government Departments and Agencies from the arrival of the Olympic Torch on 18 May to the end of the Paralympic Games on 9 September. Visit their news website at www.goc2012.culture.gov.uk (external link) or follow GOC on Twitter @2012govpress (external link).
Images
Published 17 July 2012