News story
Minister visits projects supporting children's services in Leeds
Children's Minister met staff at Leeds City Council to hear about improvement work in children's social care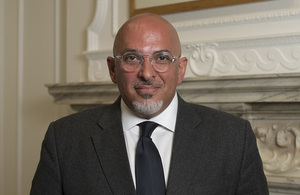 Children and Families Minister Nadhim Zahawi met staff at Leeds City Council to learn about their work driving improvements in children's social services through government-backed projects.
The Minister met with Chief Executive Tom Riordan on Thursday 29 March to discuss how Leeds, one of the Department for Education's 15 Partners in Practice, works with other councils to help improve children's social care.
As a Partner in Practice, Leeds works with a number of other children's services in the region to improve their practice and management.
Minister for Children and Families Nadhim Zahawi said:
We want every child to have a happy and safe childhood and social workers play a vital role in transforming the lives of some of our most disadvantaged children. Leeds are doing excellent work with other councils to improve the support available for children and families in need of additional help.

Through initiatives like Partners in Practice, the Innovation Programme and our wider work to boost the status of social workers, we are driving important improvements in services and raising the knowledge and skills the profession needs to excel, to really make a difference to children's lives.
The council was also awarded £4.85 million through the department's £200 million Innovation Programme which will help develop and test new ways of improving children's social care practice.
Their project, Family Valued, involves working closely with families to provide early help and support and includes intensive work on domestic violence prevention and assessments before a child is born.
Leeds is also taking part in Phase 1 of the new National Assessment and Accreditation System (NAAS) for child and family social workers, which is part of government reforms to strengthen the skills and professional status of child and family social workers.
Tom Riordan, chief executive of Leeds City Council, said:
In Leeds we have welcomed the opportunity to share our best practice and support other authorities through the Partners in Practice programme. We have worked intensively with a small number of local authorities and through our Best Practice events offered advice to a large number of local authorities, to help them provide the best possible care and support for the children in their areas.

Being part of National Assessment and Accreditation System has enabled us to review and strengthen our career development opportunities for social workers and enable us to recruit and retain great social workers, which is what children and young people need and deserve. This was highlighted in our recent focused inspection by Ofsted, who stated that Leeds is a place where social work is able to flourish.
As part of the visit to Leeds, the Minister also met staff at Adel Beck secure children's home, which is rated 'outstanding' by Ofsted. He was shown around the facility, which provides high-quality care and education to help improve the outcomes for vulnerable children.
He also met with staff from the Regional Adoption Agency, One Adoption West Yorkshire, to hear about the progress of the agency, which was the first in the country to launch. These agencies aim to speed up the process of matching adopters with children to find them loving, stables homes.
Published 3 April 2018