Minister visits payment by results pilot
Crispin Blunt went to see an innovative scheme at Peterborough Prison that aims to stop offenders returning to a life of crime after prison.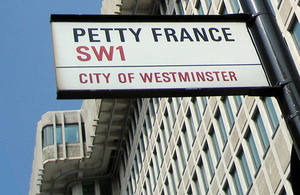 The six-year Social Impact Bond (SIB) scheme is the world's first payment by results pilot involving mentors giving support and guidance to offenders on release from prison.
The pilot, known locally as the 'One Service', targets male prisoners serving sentences of less than 12 months who receive no statutory probation supervision after they are released.
Crispin Blunt, who launched the pilot a year ago, said:
'I was really keen to visit Peterborough to see how the scheme was developing and am delighted with the progress.
'Payment by results schemes such as this will reduce reoffending and generate savings that can pay for additional rehabilitation.
He added: 'We have committed to use what we learn to apply the principles of payment by results with a focus on paying only for what works to all providers by 2015.'
Success pays
The SIB pilot uses new funding from investors outside government to reduce reoffending with offenders.
 
Over the six years the programme will seek to turn around the lives of up to 3,000 offenders released from HMP Peterborough.
If re-offending drops by more than 7.5 per cent within six years, investors receive a payment representing a proportion of the cost of re-offending such as the burden to courts, the police, probation services, prisons and social services.
The payment will increase based on the reduction in re-offending with the total cost of the project capped at £8 million.
Published 11 November 2011