Minister urges accountability for human rights abuses in Bahrain
Minister for the Middle East Alistair Burt met Bahrain's Minister for Justice and Islamic Affairs in London on 5 July.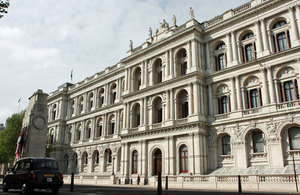 They discussed the work of the Bahrain Independent Commission of Inquiry Follow-Up Unit, reform of the Bahraini judicial system, and areas where the UK's judicial expertise could be of assistance. They also discussed preventative measures being taken by the Bahraini Government to ensure that human rights abuses were not repeated and initiatives being introduced in Bahrain to help with social cohesion.
Speaking after the meeting, Minister Burt said:
"It was a pleasure to welcome the Bahraini Minister for Justice and Islamic Affairs, Sheikh Khalid bin Ali Al Khalifa, to the Foreign Office today. During the meeting I raised the UK's ongoing concern about human rights abuses in Bahrain, which the UK also raised under Item 10 at the Human Rights Council this week. I welcomed the announcement this week that the Public Prosecution's Special Investigation Unit has charged fifteen more police officers for the mistreatment of detainees during last year's unrest. If Bahrain is to make progress towards long-term stability, it is important that those responsible for past abuses are held to account.
"The UK will continue to support and offer technical assistance to Bahrain. The pace of reform should not slip and the Minister was determined that it would not. I encourage the Bahraini Government to continue the positive steps they have taken and I urge all parties to engage constructively with each other for the long-term stability and prosperity of the country."
Published 5 July 2012