Minister Tim Loughton writes to the 'Daily Mail'
Letter from Minister Tim Loughton following an opinion piece from Christopher Booker on the care system that was published in the 'Daily Mail' on Friday, 13 April 2012.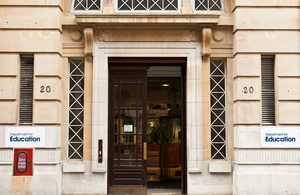 Sir,
Christopher Booker painted his usual highly selective and misleading picture of the care system (Friday 13 April, 'Children Stolen by the State'). His emotive use of the word snatched is incorrect - no child is snatched from their parents, all care cases have to go through comprehensive court proceedings.
He has previous form on this subject, having repeatedly made similar allegations without substance or evidence.
I am quite clear that as the Children's Minister, my first priority is to make sure we support vulnerable families to stay together. No one benefits if a child is taken into care incorrectly, but if a child's safety is threatened the next step must be to consider care urgently. This isn't a numbers game - there are no targets - it is about taking the right children into care.
These decisions are incredibly hard for social workers. The recent BBC documentary, _'_Protecting our Children', showed social workers doing everything they could to keep families together. But there were, sadly, times when they had to intervene. The decision is not a science. Social workers, courts and other agencies make very complex judgements on a daily basis and get it right in the vast majority of cases.
In fact, most children in care will return to their families when it is safe to do so. Others may need some time in foster care or a children's home. For others still, adoption will be the best solution if there is no safe way back to their birth families. What is important is that the most vulnerable children are found loving homes quickly rather than being left in limbo for long periods of time.
In his columns, Christopher Booker has been right to raise this issue of when the wrong decision is taken, but he also has a responsibility to report the full picture. These cases are exceptionally rare.
The government is constantly looking at how to improve the system. We need better checks and balances. I am working with judges, local authorities, voluntary organisations and parents to continue making the system better. We are also working to improve safeguarding and social work practice, and I want to see greater transparency in the family courts.
It's important that these issues are raised, but it's equally important that a minority of distressing cases are not manipulated to discredit the entire system. I am sure that Christopher Booker would be the first to argue that social workers and the courts acted too slowly should another tragic child protection case occur that could have been avoided. Trying to caricature all social workers as some sort of 'child snatcher' is deeply irresponsible and dangerous for children like Baby P, who cannot safely live with their parents and where we have a duty to intervene before it is too late.
Tim Loughton MP
Minister for Children and Families
Published 17 April 2012