Minister thanks missile plant for support during Libya operation
Hundreds of workers at a British missile factory have been thanked by the Minister for Defence Equipment, Support and Technology Peter Luff for their efforts in supporting the Armed Forces during the Libya intervention.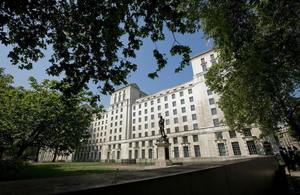 The Minister visited MBDA UK at Lostock in Bolton last week to see for himself where some of the UK's most sophisticated missiles are made.
The factory, which employs around 300 people, is responsible for the production of a number of complex weapons, including the Dual Mode Brimstone missile, which was used by the RAF during NATO's operation in support of the UN over Libya in 2011.
Use of this missile was key to supporting the UK's efforts during the conflict, providing the RAF with the ability to strike with precision.
During the conflict the MBDA Lostock factory was asked to double its output of the weapon to ensure that the RAF was adequately equipped to support the efforts in Libya as well as continuing its role supporting operations in Afghanistan.
The Minister's visit, which took place on Tuesday 14 February 2012, also saw the 500th Brimstone coming off the production line ready to be delivered to the Ministry of Defence.
Addressing staff at the plant, Mr Luff said:
I am glad that I have had the opportunity to come here and thank you all in person for your efforts in supporting the NATO operation during the conflict in Libya last year.
"Brimstone and Storm Shadow have a deserved reputation for accuracy and reliability, and the use of these missiles, alongside the RAF's other air-to-surface weapons, was of real importance to the success of the operation to liberate the country.
Throughout this time, staff at MBDA provided exemplary support in ensuring that this capability was available for use at all times.
Executive Group Director Technical and MBDA UK Managing Director Steve Wadey said:
Dual Mode Brimstone [DMB] has been a real success story in showcasing the innovative capabilities that MBDA delivers to the front line and we are delighted to be marking the 500th delivery of this weapon.
We believe that this milestone highlights the continued success of Brimstone and the Minister's visit is a welcome recognition of the contribution MBDA and its employees make to the Armed Forces and their operations.
Supervisor Keith Nicholson said:
I have been working at MBDA's Lostock factory for 36 years and always recognised that our work was important in helping to defend our troops, yet after hearing from the Minister about the contribution we made with DMB in Libya, I think the last 12 months of hard work is going to stand out when I look back.
Published 21 February 2012