News story
Minister sees electric bus fleet in action
Nottingham visit highlights green buses and work on trams.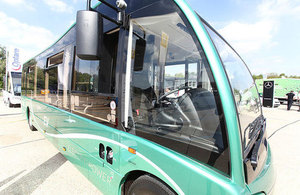 Transport Minister Baroness Kramer was in Nottingham today, Thursday 12 June 2014, to see how £5.5 million of government funding has been used to make the city's bus fleet cleaner and more efficient.
Nottingham City Council is using the money from the Department for Transport's Green Bus Fund to replace its entire fleet with ultra low carbon electric buses.
Today Baroness Kramer took a ride on one of the new buses to see for herself how they are already benefiting the city.
Baroness Kramer said:
There are great benefits to transforming bus travel in this way – pleasant journeys for passengers, improved air quality in our towns and cities and a boost for the local economy thanks to reduced congestion.

By committing to make all of its buses electric, Nottingham City Council is leading the way and is setting a great example for others to follow.
Ultra low emission vehicles (ULEVs) are a vital part of government plans for a modern transport system. The UK is investing almost £1 billion into this important sector and has one of the most comprehensive, and innovative, support packages for the transition to ULEVs anywhere around the world. ULEVs not only deliver clear environmental benefits but by positioning the UK at the front of this rapidly growing sector government policy is also driving economic growth.
Home to one of the biggest tram networks in the UK, Nottingham also played host to the ninth annual Light Rail Conference today.
Speaking at the event, Baroness Kramer highlighted the benefits which trams are bringing to British cities and outlined the support provided by the Department for Transport.
Baroness Kramer said:
Light rail has a long and impressive history and a bright and progressive future. It has proved itself an effective and efficient means of taking large numbers of passengers directly into, and around, the heart of a city. It is also among the greenest and cleanest forms of transport - no emissions, very little noise and, with the right scheme in the right place, the potential to encourage people out of their cars and on to public transport.
News desk enquiries
Press enquiries 020 7944 3021
Out of hours 020 7944 4292
Switchboard 0300 330 3000
Published 12 June 2014