News story
Minister praises pioneering anti-slavery academy in Derby
Minister for Modern Slavery and Organised Crime Karen Bradley welcomes Derby's bid to become global city against slavery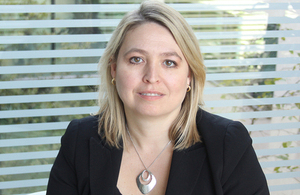 The Minister visited the city to see first hand a unique partnership that is being launched by the University of Derby and the Gangmasters Licensing Authority (GLA) next year.
The two organisations will jointly run an academy that provides specialist training to businesses and employees in the UK's food and agriculture sectors on how to spot potential victims of human trafficking, forced labour and exploitation in labour supply chains.
Minister for Modern Slavery and Organised Crime Karen Bradley said:
The fact that slavery still exists in the 21st Century is shameful. That is why we have brought forward a Modern Slavery Bill, the first of its kind in Europe, and published a wide-ranging strategy to tackle this crime.

If we are to abolish it, everyone needs to play a part. We need to raise awareness of the issues involved at a local as well as national level. I am grateful for the vital work being carried out by the University of Derby and the GLA, to help consign slavery to the history books where it belongs.
The Minister also took time to meet a range of local community groups who work with victims of trafficking and representatives from Derbyshire Constabulary who spoke about their pro-active approach to tackling slavery, which earlier this year led to the imprisonment of four people.
Published 16 December 2014