Minister praises Dartford for binning fortnightly collections
Bob Neill praised Dartford Council for listening to the public on keeping weekly bin collections alive on a visit to the area.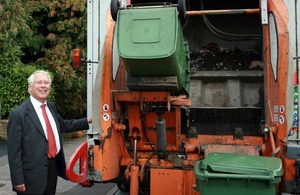 Mr Neill applauded the innovative public poll that showed 94.5% of residents who took part wanted to keep weekly collections, and urged other councils to follow suit. Councils across the country have been moving to fortnightly collections over the past few years despite public support for weekly rounds.
Mr Neill today pledged that the government will be legislating in November's Localism Bill to allow local residents to initiate local referendums.
The government is currently carrying out a comprehensive review of all waste policy from product package to waste collection. Communities Secretary Eric Pickles has already withdrawn Audit Commission guidance encouraging councils to switch to fortnightly collections and laid out plans to remove the bin tax laws from the statute books.
Mr Neill met refuse collectors on their collection round in Joydens Wood today and spoke to some of the residents who voted to keep weekly collections in the Big Bin Vote.
Mr Neill said:
"The binman has never been so welcome as now with so many councils cutting weekly collections. Fortnightly collections cause problems with fly-tipping, odour and vermin as well as forcing people to drive to their local dump to get rid of their rubbish, increasing congestion and pollution from the traffic.
"It's good to see here in Dartford the council listens to local people and keeps the weekly bin collections they value. It was fantastic to meet the refuse collectors who are doing such an important job as well and hear directly from residents.
"I hope other councils will follow Dartford's example in the difficult times ahead as we work together to cut the deficit and listen to local people about what services matter the most."
The council received further praise for publicly ruling out the practice of 'bin snooping' - secretive bin searches to find out what the public are throwing away. Ministers believe the best way to encourage responsible waste disposal is to incentivise recycling rather than punish families with taxes, and reward them for going green.
Environment ministers have axed the funding for 'pilot' schemes for the bin taxes. Under the bin tax laws, once a pilot scheme had been introduced, it could be rolled out across the country without a substantive vote in Parliament.
With council finances due to be tightened as the government tackles reducing the deficit, ministers are urging councils to increase their use of local referendums to find out what services people want to protect.
The coalition government set out plans in its 'Programme for government' to encourage the use of local referendums on any local issue.
Further information
The Waste Review will look at what policies are needed to reduce the amount of waste generated and to maximise reuse and recycling, while also considering how waste policies affect local communities, individual households and businesses.
The review includes looking at how government can work with local councils to increase the frequency and quality of rubbish collections and make it easier to recycle, to tackle measures which encourage councils specifically to cut the scope of collections; and to address public concerns over the civil liberty aspects of inappropriate enforcement practices associated with household collections.
People can contribute to the review through the Department for Environment, Food & Rural Affairs website, by responding to the call for evidence or taking part in an interactive debate on waste policies.
More photographs of the visit are available from the DCLG Flickr channel
Published 23 August 2010