News story
Minister opens Police Now Summer Academy
On his first visit in his new role, Brandon Lewis congratulated recruits that were sworn in at the ceremony in East London.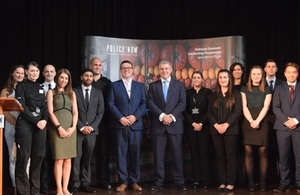 Newly appointed Minister for Policing and the Fire Service, Brandon Lewis, attended Police Now's Summer Academy ceremony to meet and congratulate the new recruits being sworn in.
Inspired by Teach First, Police Now is an innovative 2-year training programme that places top graduates in the country's most challenging communities where they can have the greatest positive impact working as neighbourhood police officers.
Last year, Police Now was piloted by the Metropolitan Police Service, with 69 recruits graduating from the scheme. This year it has been extended to 6 other forces around the country - doubling its intake to 112.
Following the swearing-in ceremony, the minister took to the stage to praise the Police Now scheme and the new recruits who are about to begin their intensive 6 week summer training before joining police forces around the country to work as neighbourhood police officers.
Minister for Policing and the Fire Service Brandon Lewis said:
I was delighted to attend the ceremony in my new role and congratulate all the Police Now Summer Academy recruits that were sworn in.

Innovative schemes like Police Now are helping make our police workforce more diverse than ever before, and it's great to see so many people keen to use their skills to make our communities safer and to reduce crime on our streets. I wish all the recruits every success in the rest of their training and in their future careers.
Published 20 July 2016