News story
Minister of State Hugo Swire hosts Westminster Preview for L/Derry City of Culture
London got its first glimpse of the exciting cultural programme being developed to celebrate Derry-Londonderry as the first UK City of Culture 2013.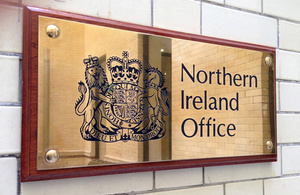 London got its first glimpse tonight of the exciting cultural programme being developed to celebrate Derry-Londonderry as the first UK City of Culture 2013.
The event was hosted by Northern Ireland Minister of State Rt Hon Hugo Swire MP and Culture Minister Hon Ed Vaizey MP in the House of Lords as part of the Government's ongoing support for the inaugural UK City of Culture.
Guests, including, First Minister Peter Robinson and Deputy First Minister Martin McGuinness joined politicians, business leaders, and celebrities including pianist Phil Coulter and Barry Douglas and representatives of Culture Company 2013 to hear a preview of the programme for next year which will see Derry~Londonderry host the first ever UK City of Culture.
Some of Northern Ireland's best-known business leaders attended, among them the Chief Executive of Belfast's Titanic Quarter, David Gavaghan; the Chief Executive of one of Northern Ireland's biggest IT companies, Allstate NI, Bro McFerran; and Colm O'Neill, the Chief Executive of BT in Ireland.
Speaking at the event the Northern Ireland Minister Rt Hon Hugo Swire MP said:
Throughout what has been an eventful history, Derry has always retained the fortitude, optimism and vibrancy that make it such as special place, whether you regard it as Londonderry, the Maiden City, or Derry, rich in Irish culture and tradition or both.
Next year, Derry-Londonderry will make history again by becoming the UK's first ever City of Culture.
Our task, working together, is to ensure that it provides a lasting legacy for future generations; culturally, through the many exciting events that are planned for next year, economically, through increased tourism, jobs and regeneration, and in relationships, by bringing people together and building on the huge progress that's been made in Northern Ireland and throughout these islands over the past two decades.
Derry-Londonderry City of Culture 2013 will be a great showcase for the city, for Northern Ireland and for the UK. In hosting this event both Ed Vaizey and myself are showing our full support on behalf of the Government to ensure a tremendous success for UK's first City of Culture.
Culture Minister Ed Vaizey said:
I'm looking forward to next year and seeing the results of the tremendous work which I know has gone into planning the City of Culture programme. Being UK City of Culture in 2013 provides a unique opportunity to present the city on the wider national and international stage and Derry~Londonderry has got an exciting and challenging programme of events in store for us all.
Notes to Editors
During the event Phil Coulter performed, a short film previewing the year's events was shown and Philip King's digital musical collaboration between Dingle Co. Kerry, Derry and London was heard.
Among those at the event to tell Derry~Londonderry's new story were: Culture Company 2013's chairman, Martin Bradley, and its Chief Executive Shona McCarthy; Hollyoaks producer Phil Redmond (who spearheaded Liverpool's year as European Capital of Culture in 2008); internationally renowned composer and pianist Phil Coulter; musician and film-maker Philip King (founder of the 'Other Voices' festival).
Published 19 June 2012