World news story
Minister of State for Universities & Science visited ESTEC
David Willetts, Minister of State for Universities & Science paid his first visit to ESTEC, the technical heart of the European Space Agency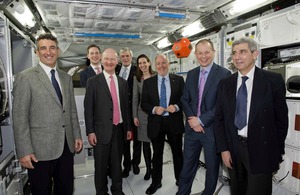 David Willetts, Minister of State for Universities and Science, paid his first visit to ESTEC, the technical heart of the European Space Agency (ESA) in Noordwijk, on Friday 8 February.
As the UK is building up new momentum in its growing space sector, the visit provided a timely opportunity to discuss collaboration with ESA on building a bright future of new space activity.
Together with David Parker, Head of the UK Space Agency, Minister Willetts visited several ESA labs. The programme started with a tour of the Radio Navigation Centre, a general test and simulation centre which supports well-known ESA projects such as Galileo and EGNOS. This was followed by ESA's Bepi Colombo project, which captured everyone's imagination. To explore the atmosphere of Mercury, the innermost and hottest planet in the Solar System, the satellite being developed at ESA will have to operate under the most extreme circumstances. The visit culminated with a tour of the Erasmus Centre for Human Spaceflight, where the UK delegation experienced what it is like to stand inside a space capsule and was shown what a mission to Mars could look like.
Published 8 February 2013