World news story
Minister of State Duncan meets with Honduran delegation in London
The British Minister of State for Latin America, Alan Duncan, met with a group of Honduran officials visiting London and stated the UK's commitment to keep strengthening the economic relationship between the two countries.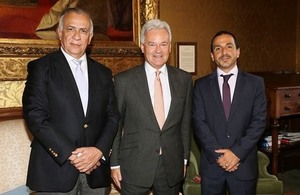 Sir Alan Duncan, Minister of State for Europe and the Americas at the Foreign and Commonwealth Office (FCO) met with the President of the Honduran Congress, Mauricio Oliva; the Honduran Minister of Finance, Wilfredo Cerrato; the Executive Secretary and Technical Director of the Committee for the Promotion of Public-Private Partnerships in Honduras (COALIANZA), Henry Acosta and Miguel Servellon, respectively; and the Honduran Ambassador in London, Ivan Romero Martinez.
Minister Duncan explained that while the nature of the UK relationship with the European Union is still to be determined Britain wants the strongest possible economic links with its neighbours, as well as the UK's close friends in Central America, including Honduras. Minister Duncan welcomed the delegation's presence at a conference held in London to explore the benefits of the Private Public Partnerships (PPP) on which the UK has led the way in establishing an international model for this scheme and its expertise is now a valuable export.
From 27 to 28 September Her Majesty's Treasury (HMT) in cooperation with the Foreign and Commonwealth Office (FCO) convened a PPP workshop in London that brought together representatives from both UK and Central American governments and private sector. The Central American delegation was composed of 14 representatives from Guatemala, El Salvador and Honduras and included high officials from their respective congresses, the executive branch, PPP regulatory agencies, investment coordination bodies and the business community.
The workshop, which took place in HMT's offices in London, covered international best practise in planning and delivering infrastructure development, focussing on the use of PPPs in achieving this, and how the UK's institutional structure helps to ensure effective delivery. The group also visited PPP projects in London, such as the West Middlesex Hospital and Thamesside prison, to examine first-hand the various types of PPPs in the UK and how the approach is changed to deliver different objectives. They also met with the business community, including CityUK and Norton Rose Fulbright, to discuss upcoming infrastructure investment projects in Central America.
The conference underscored UK efforts to foster local economic development, attract foreign investors, and strengthen the legal and regulatory framework in the Central American Northern Triangle.
Document information
Published: 3 October 2016