Press release
Minister of State announces appointment of Assistant Commissioners to DEAC
Appointment of Assistant Commissioners to the District Electoral Areas Commission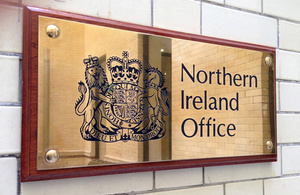 The Minister of State, Mike Penning MP, has today announced the appointment of four Assistant Commissioners to support the work of Richard Mackenzie CB, the District Electoral Areas Commissioner (DEAC) for Northern Ireland.
The DEAC will make recommendations on the grouping of local government wards in Northern Ireland within district council areas for the purposes of elections to local councils.
The DEAC published his provisional recommendations on 2 May 2013; which was followed by an 8 week consultation period that ended on 27 June 2013. The Assistant Commissioners will preside over any local inquiries that may be held following the end of the consultation period.
Mike Penning said:
I am pleased to announce the appointment of Eileen Brady, Paul Dougan, Nicolas Griffin and Sarah Havlin as Assistant Commissioners.
The District Electoral Areas Commissioner's role is an important part of the local government reform process. The appointment of the Assistant Commissioners will allow him to complete a thorough review and then present his final recommendations quickly and effectively.
The position of DEAC is independent of Government. Recommendations will be published and laid before Parliament.
The appointments will take effect from 2 July 2013.
Published 3 July 2013