Press release
Minister meets Worthing civil servants leading the way to better public services
Francis Maude, Minister for the Cabinet Office, today met with staff in the Worthing office of My Civil Service Pension.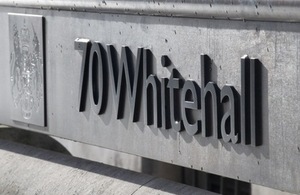 27 January 2012
Francis Maude, Minister for the Cabinet Office, today met with staff in the Worthing office of My Civil Service Pension (MyCSP). MyCSP administrates pensions for 1.5million people across the country.
MyCSP is at the cutting edge of public service reform as the pioneer of a new 'mutual joint venture' business model. The new enterprise will be formed from a unique three-way partnership between employee partners, government and a private sector partner, each of which will own a share in the business. The business model is designed to give frontline employee partners greater influence in the running of MyCSP backed up with the business expertise and capital investment of the private sector partner. The Government too will also be keeping a stake so that tax payers benefit from the increased value of an improved service.
Preparations are well underway and it's expected that MyCSP will 'spin out' from the public sector in coming months. Already, MyCSP Ltd has been created and the selection process for the private partner is in the final stages.
Francis Maude said:
MyCSP is breaking down the old binary choice between state or private provision of public services. I want front line staff to have more power to do their jobs the way they know is best. This is one way of making it happen.

The staff in Worthing MyCSP are really enthusiastic about making this work. I've no doubt they will succeed in building a thriving social enterprise which benefits the community as much as it does its customers.
MyCSP Ltd also has a strong focus on social enterprise and social corporate responsibility and is launching the innovative 1+1+1 programme in which:
1% of net profits to employee partners selected harities/community projects
1% of employee partners time to engage directly in local charity & community projects
1% of total headcount to be offered for apprenticeships and interns.
During the visit, Phil Bartlett, MyCSP Chief Executive announced that RBS has agreed to provide banking services to the new social enterprise. Phil Bartlett, CEO of MyCSP said:
These are exciting times and I am immensely proud of our achievements as we prepare to launch as a mutual joint venture. Back when MyCSP was formed in April 2010 as the first cross government shared service we took over unmanaged and unmitigated risks and issues. Today, we have a fully formed, truly competitive mutual business model, with employee representation on the Board, an Executive Team committed to employee engagement, and robust plans for business growth. In fact we are already seeing unprecedented high levels of performance against service agreements. We are also pleased that RBS has agreed to support the mutual joint venture. Today Francis Maude, Minister for the Cabinet Office, visited MyCSP as our plans to be a leader in corporate social responsibility were revealed.  MyCSP Ltd will blend the best of public ethos with strong commercial capability. We also have plans in place to negotiate linking the reward package for the most senior executives to the average reward value for all; I am very much looking forward to announcing our private sector partner in the near future
MyCSP takes its corporate social responsibilities seriously. Sharon Crosland, MyCSP's Mutual Guardian says:
MyCSP Ltd will strive to be a good corporate citizen and exemplar in our sector. Our organisation's mutual values go to the heart of our understanding of our responsibility to be a good corporate citizen. We understand that businesses such as ours have an important role to play in creating jobs and opportunities locally and in caring for our communities. To reach out to the communities we live in we are launching our 1+1+1 programme in partnership with our people.
David Treacher, MD of Public Sector and Charities at RBS said:
RBS has a proud history of supporting social enterprises and we are pleased to be supporting the first mutual joint spun out of the public sector. We look forward to working with them.
Published 27 January 2012