Press release
Minister hosts 'Call for Evidence' roundtable to improve accessibility of elections
The Minister for the Constitution heard from disability rights campaigners about the barriers they face when participating in the democratic process.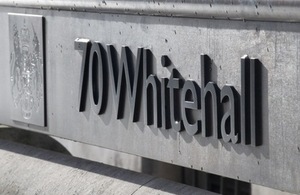 Minister called on the campaigners, who attended a roundtable hosted by the Minister, to share his Call for Evidence on how people with disabilities experience registering to vote and voting itself.
At the roundtable held during National Inclusion Week, the Minister highlighted his visits to every part of the United Kingdom as part of his Every Voice Matters Tour, which have helped him understand how to tackle barriers to voter registration.
As a direct result of this, changes have been made to the Certificate of Visual Impairment so it can be used by local authorities to support blind and partially sighted people to vote at elections, once their consent has been provided.
The Call for Evidence will ask people to provide information that will: * enhance the Government's understanding of the experiences of disabled people in registering to vote and casting their vote; * help identify if current mechanisms to support disabled people to participate in the democratic process are sufficient; and * identify examples of good practice provided by Electoral Service Teams to disabled people at elections.
Minister for the Constitution, Chris Skidmore said:
This Call for Evidence is part of the process to help ensure that every disabled person is able to have that equal chance and that equal right, to participate in our democracy, and to have their say.

We want to ensure that our elections are as accessible as possible, and to remove any barriers that exist to democratic participation - every voice matters and we want ours to be a democracy that works for everyone.
Published 29 September 2017