Press release
Minister Grant Shapps welcomes action to tackle wildlife crime
On Thursday, the United Nations took a significant step in the fight against poaching by passing its first resolution to combat wildlife crime.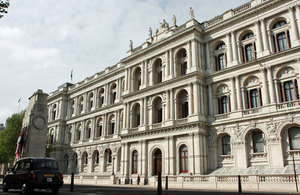 The Resolution, Tackling the Illicit Trafficking in Wildlife, was started by Gabon and Germany and co-sponsored by 84 other nations, including the United Kingdom.
Foreign Office Minister Grant Shapps said:
After years of hard work, it is hugely encouraging to see the international community come together and agree this resolution.
Wildlife crime is a scourge on endangered and vulnerable species and must be stopped. The events of this week in Zimbabwe have shown us, more clearly than ever, exactly what it is at stake – our unique wildlife, that once lost is lost forever.
Work by the Foreign Office and DEFRA has meant that the UK plays a leadership role on wildlife crime. This government has made it clear that we want a total ban on ivory sales and this is an area to which I personally attach great importance, along with colleagues like DEFRA Minister Rory Stewart. The UK hosted the first ever international conference in London in 2014, actively supported the leadership shown by Botswana at their conference in March, and we are giving £200,000 to Vietnam to support the third conference being held there next year.
The time for action is now. We cannot be complacent. There is still much work to do, and many barriers to be overcome if we are to start winning this battle by cracking down on the criminals involved and stabilising wildlife populations. But if we keep up the spirit of yesterday's resolution in working together, then I believe that we can and will stop the trade before it is too late.
Further information
Follow Foreign Office Minister Grant Shapps on Twitter: @GrantShappsDLidington.
Follow the Foreign Office on Twitter.
Follow the Foreign Office on Facebook & Google+.
Published 31 July 2015