Minister for Women joins procession through London
Minister for Women joins procession through London to celebrate women's suffrage centenary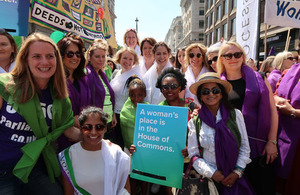 On Sunday 10 June, the Minister for Women joined thousands of women and girls as they walked together through London as part of a mass participation artwork to mark the centenary year of women's suffrage.
Processions took place in London, Belfast, Cardiff and Edinburgh, with participants wearing either green, white or violet – the colours of the suffrage movement – to give the appearance of a flowing river of colour through the cities' streets.
Nearly £210,000 of UK Government funding went towards commissioning women artists to work with organisations and communities across England to create centenary banners for the London Procession as part of an extensive public programme of creative workshops.
Minister for Women Victoria Atkins said:
Yesterday's processions have the potential to go down in history, just as the processions 100 years ago, and to serve as a legacy for us all to build on.

It is vital that we all play our part in celebrating our history, paying tribute to those who sacrificed so much to shape our country, and reigniting our determination to build on the great work of the great women who have gone before us.
Published 11 June 2018