Minister for the Overseas Territories visits the Turks and Caicos Islands
Minister for the Overseas Territories, Henry Bellingham is visiting the Turks and Caicos Islands (TCI), one of 14 British Overseas Territories.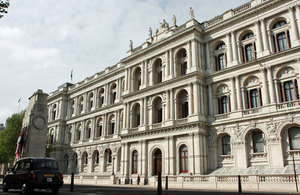 This is his first visit to an Overseas Territory since taking up the role in May 2010. Later in the week he will visit Anguilla before joining UK representatives at the 65th Session of the United Nations General Assembly in New York for discussions on the Millennium Development Goals, climate change, biodiversity and disarmament.
The Turks and Caicos Islands are one of 14 British Overseas Territories. Parts of TCI's constitution were suspended in August 2009 following a Commission of Inquiry report into allegations of corruption by TCI ministers which pointed to a high probability of systemic corruption in the government and legislature of TCI. The Governor now has charge of matters of government subject to instruction by the Secretary of State.
This was a serious constitutional step which the Government did not take lightly. These measures were essential in order to restore the principles of good governance and sound financial management.
A range of UK Government funded advisers are now in place to offer support and guidance to the Governor and to the public service.
An Advisory Council and Consultative Forum have been appointed by the Governor. They have ensured that the voice and views of the people of TCI continue to be heard.
Published 20 September 2010