World news story
Minister for the Overseas Territories to visit the Cayman Islands
Mark Simmonds MP, FCO Minister for the Overseas Territories, will visit the Cayman Islands on 5 November.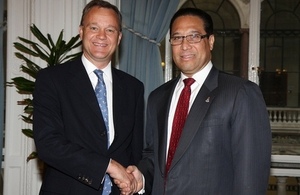 Mr Mark Simmonds, Minister for the Overseas Territories at the Foreign and Commonwealth Office, will visit the Cayman Islands on Tuesday 5 November.
The visit takes place three weeks before the annual Joint Ministerial Council in London and will focus on enhancing the relationship between the UK and Cayman Islands and promoting our shared agendas.
Mr Simmonds will have meetings with the Premier, the Finance Minister and will call in on the Cabinet meeting. Other engagements will include a meeting with opposition MLAs, a visit to the port area, a call on the lion fish lab at the Department of the Environment and a presentation on the Health City development. The Premier will host a reception and Minister Simmonds will address a dinner hosted by the Chamber of Commerce.
Ahead of the visit Minister Simmonds said:
I am delighted to be making my first visit, as a Minister, to the Cayman Island, an important centre for the global financial services industry. I am looking forward to meeting Premier McLaughlin again and his colleagues in Government and to discussing with them how we can work together on our shared commitments in the White Paper and the JMC communiqué. I am particularly looking forward to meeting young Caymanians and hearing about the challenges that Cayman's youth faces now and in the future.
A biography of Mr Simmonds can be found here.
Published 3 November 2013