Press release
Overseas Territories Joint Ministerial Council agree joint communiqué
The Joint Ministerial Council closed today with the agreement of a joint communiqué which sets out priority issues.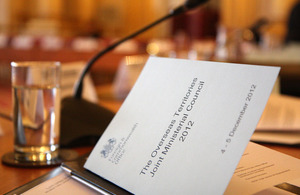 The Joint Ministerial Council, chaired by Minister Simmonds and attended by Premiers, Chief Ministers and other elected representatives from Britain's Overseas Territories, closed today with the agreement of a joint communiqué which sets out priority issues and a comprehensive action plan for joint work in the coming year.
The end of the second day of the Council also saw the Prime Minister welcome Territory leaders to 10 Downing Street: the first time that Territory leaders have had a collective meeting with a Prime Minister.
As the Prime Minister said in his foreword in the White Paper:
The United Kingdom's 14 Overseas Territories are an integral part of Britain's life and history. This Government is ambitious for our Territories as we are ambitious for the United Kingdom. We want to see our communities flourish in partnership, with strong and sustainable local economies. We see an important opportunity to set world standards in our stewardship of the extraordinary natural environments we have inherited.
Mark Simmonds, Minister for the Overseas Territories, said:
The White Paper sets out a very positive vision for the Overseas Territories. This first meeting of the Joint Ministerial Council has helped us identify an ambitious list of priority areas for action, such as encouraging economic growth; protecting the environment and making government work better. We will work closely with the Territories in the coming year to achieve what we have together set out to do.
Many of my Ministerial colleagues from across Government took part in the Council this week, demonstrating that the UK Government as a whole is committed to supporting the Territories.
Published 10 December 2012