Minister for the Middle East visits Oman
Minister for the Middle East Alistair Burt visited Oman for a working group on UK-Oman relations on 15 May.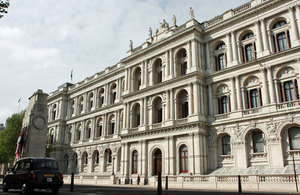 The meeting focussed on bilateral relations between the two countries and the means to enhance them.
They identified the following areas of cooperation:
economy, commerce, investment, and the energy sector
cooperation in culture, education, training, scientific research, the environment and health The UK-Oman Working group was established during The Queen's State Visit in November 2010.
While in Oman also visited the British Council to discuss the cultural and educational relationship between the UK and Oman, and led a debate with students about the broader relationship between the two countries.
Published 15 May 2011