Minister for the Middle East visits Jordan
Minister for the Middle East Alistair Burt visited Amman for a one day official visit on 20 January.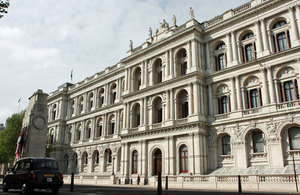 During the visit held talks with the Minister for Foreign Affairs, HE Nasser Judeh, and the Chief of the Royal Hashemite Court, HE Mr. Nasser Lauzi. The Minister also met the Minister for Political Development, HE Musa Ma'ayta.
On arrival, the Minister for the Middle East said:
"I am delighted to be in Amman. Jordan and the UK have always been close friends and partners and we are committed to ensuring this continues. Successive British Governments have valued the experience of His Majesty the King, which continues to be critical today with the difficulties facing the region, including on the Middle East Peace Process. We continue to support Jordan's efforts to tackle administrative reform and social development."
This is the first Ministerial visit to Jordan since the forming of the new Coalition Government in the UK. The visit is part of a regional tour that includes the Occupied Territories and Israel.
Visiting the British Council, he attended a practical demonstration of the "5 Star Disability Sports Challenge" programme presented in partnership with the Higher Council for the Affairs of People with Disabilities and the Jordan Paralympics Committee. The "5 Star Disability Sports Challenge" is part of the London 2012 Olympics Legacy programme International Inspiration, a development through sports initiative led by the British Council, UNICEF and UK Sport in partnership with various Jordanian stakeholders. **
**
Published 20 January 2011