Minister for the Middle East visits Bahrain
Minister for the Middle East Alistair Burt will discuss recent developments, in particular the Bahrain Independent Commission of Inquiry while on a two day visit to Bahrain.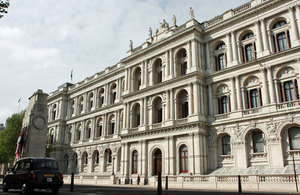 The Foreign Office Minister will discuss how the UK can work with Bahrain across a range of issues, from supporting implementation of the BICI recommendations to increasing trade relations.
He will meet a variety of senior members of the Government and host a series of round tables discussions with representatives from businesses, the media and civil society. He will also meet members of the British community living and working in Bahrain.
Speaking ahead of the visit, Minister Burt said:
"My visit to Bahrain over the next two days will give me the opportunity to build on His Majesty King Hamad's visit to the UK earlier this week. The British Government has welcomed the Government of Bahrain's unprecedented decision to establish an Independent Commission of Inquiry and accept its findings. I look forward to discussing the steps it has taken so far, making clear the importance of swiftly implementing the report's recommendations, and finding ways that the British Government can provide practical assistance. I urge all groups in Bahrain, in particular the opposition, to engage fully to seize this moment for reconciliation and broader reform. As Bahrain looks to the future the UK will continue to stand with it as a close friend and ally".
Published 13 December 2011