Minister for the Middle East meets Egyptian political activists
Minister for the Middle East, Alistair Burt, today met a group of young, Egyptian activists from across the new political spectrum.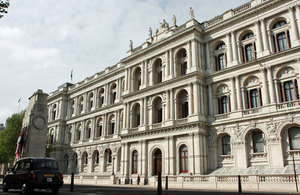 They are in the UK as part of a sponsored visit to introduce them to British politics as they seek to play a crucial role in the development of Egypt's future. During their visit they will be meeting members of political parties, Parliament, municipal councils to discuss the building blocks of transparent, democratic societies and look at how they can use lessons learned to develop nascent Egyptian parties and a more democratic and pluralistic society in Egypt.
Following the meeting Minister Mr Burt said:
"The success of the Arab Spring will be judged in large part by what happens in Egypt. A successful transition will serve as a model of peaceful change for the region. We support the move towards a democratic, civilian-led government that meets the aspirations and commands the respect of all Egyptians. It is now important that there is a truly pluralistic, non-sectarian election process and a level playing field for all those who wish to participate in the contest. I hope this visit will help deliver that by exposing young political activists to new ideas on which they can draw when they return to Egypt. The UK, alongside the European Union, will continue to offer support to Egypt at this crucial time."
Published 21 June 2011