Minister for the Middle East encourages further reform in Bahrain
Foreign Office Minister Alistair Burt met Bahrain Minister for Follow Up at the Royal Court of Bahrain Sheikh Ahmed bin Atiyatallah Al Khalifa.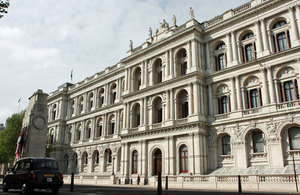 They discussed the current situation in Bahrain, UK/Bahrain relations and the progress made since the Independent Commission of Inquiry published its report in November 2011. They discussed plans for a political dialogue, the security situation, specific human rights concerns and areas where the UK could provide assistance. The Minister for the Middle East emphasised the importance of reform and reconciliation if sustainable stability is to be achieved in Bahrain.
He said:
"We have consistently encouraged the Government of Bahrain to implement in full the recommendations from last year's Independent Commission of Inquiry. We hope that the steps taken so far by the Bahraini Government will provide the basis for further reform and will help prevent future abuses from being committed. Reports of ongoing violence and street protests in Bahrain make clear this is long-term process and more needs to be done. The Bahraini Government should continue to make progress on a political dialogue that is inclusive, constructive and realistic, but I also encourage all other parties to take the necessary steps to achieve this as a matter of urgency. We are ready and willing to provide assistance to Bahrain to help them implement these reforms."
Published 3 April 2012