Press release
Minister for Portsmouth opens new £4 million Maritime Intelligence Centre
Minister for Portsmouth opens a new £4 million centre for research into unmanned autonomous boats, submarines and other vessels.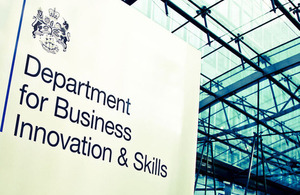 new centre will develop unmanned autonomous boats and submarines
3,700 permanent jobs set to be created thanks to new progress on City Deal
Highbury College to form part of first national UK Shale College
Minister for Portsmouth Matthew Hancock will today (17 November 2014) officially open a new cutting edge centre for research into unmanned autonomous boats, submarines and other vessels – a market that is estimated to be worth £9 billion each year over the next 8 years.
The Centre for Maritime Intelligence Systems (CMIS) was announced by the Prime Minister in July 2013 and is already up and running. It brings together academics, scientists, engineers and naval specialists at Portsdown Technology Park and has received support worth £4 million from government, industry and the Solent Local Enterprise Partnership (LEP).
Tapping into the unique expertise in Portsmouth, the centre is a testbed for new systems and technology that can be sold to defence and civilian customers around the world.
Minister for Portsmouth Matthew Hancock said:
This centre puts Portsmouth at the forefront of a growing £9 billion a year market. Whether it's for environmental monitoring, gas exploration or clearing underwater mines, there is massive potential for unmanned vessels.

Technology developed here can play a big role in Portsmouth's future. The city has the talent and expertise to lead the world in this area.

We chose Portsmouth as the best location for this centre in July and thanks to hard work from government, industry and local leaders we have got it off the ground in double quick time.
Before opening CMIS Matthew Hancock spoke at the 'Shaping the Future of Portsmouth' conference where he announced that the Ministry of Defence (MOD) and Portsmouth City Council have now exchanged contracts enabling the transfer of land at Horsea Island and Tipner Firing Range.
This important milestone in implementing the Southampton and Portsmouth City Deal will allow space for 2,370 new homes alongside 58,000 square metres of employment space for the growing marine and advanced manufacturing sectors of the Solent economy. Together, these will create 3,700 permanent jobs.
The City Deal is providing more than £950 million of public and private sector investment in Portsmouth and Southampton, and Matthew Hancock has been driving forward progress through the Ministerial Taskforce on Portsmouth, which he chairs.
Matthew Hancock also confirmed that Portsmouth's Highbury College will form part of the first national UK Shale College. The new centres of excellence will train a generation of onshore oil and gas specialists, helping the UK to seize the economic opportunities offered by natural shale gas.
The National College for Onshore Oil and Gas will be headquartered in Blackpool and linked to colleges across the country, including Highbury College in Portsmouth.
Notes to Editors
The UK CMIS will set up an initial synthetic environment and conduct initial de-risking and "proof of concept" activities as part of a maritime autonomous systems demonstrator programme. Industry has committed to create a "start-up" project team at the Portsdown Technology Park, supported by the Solent LEP and University of Southampton. The MOD has committed to support this project by aligning more than £1 million in research and development funding in 2014 to 2015, along with specialist advice. The Solent LEP is also funding a £1 million technology call for SMEs. This represents a total investment of more than £4 million by industry and government.
Published 17 November 2014