News story
Minister for Policing launches consultation on police funding reform in England and Wales
Plans to reform the current arrangements for allocating central government funding to 43 police forces.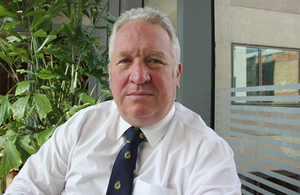 Policing Minister Mike Penning today announced plans to reform the current arrangements for allocating central government funding to the 43 police forces in England and Wales.
He described the current police funding model, the Police Allocation Formula (PAF), as "complex, opaque and out of date" as he launched consultation on the new proposals, which would enable funding to be provided sustainably to, and divided fairly between, Police and Crime Commissioners (PCCs).
Following a comprehensive review of the PAF, which is almost 10 years old, the Home Office believes that the formula should be replaced by a simplified model as soon as it is appropriate to do so.
New model
The proposed new model would use population levels, the underlying characteristics of that population and environmental characteristics to determine how money is allocated.
The intention is to create a fairer and more transparent method of allocating financial resources. In 2015/16, core government grant funding to the police is £7.8bn - 90% of the overall Police Grant Settlement.
Minister for Policing, Crime, Criminal Justice and Victims, Mike Penning, said:
Police reform is working. Over the last five years, frontline services have been protected, public confidence in the police has gone up and crime has fallen by more than a quarter, according to the independent Crime Survey for England and Wales.

However, if we want policing in this country to be the best it can be, then we must reform further, and that includes putting police funding on a long-term, sustainable footing.

The current model for allocating police funding, is complex, opaque and out of date. This consultation sets out proposals to deliver a police funding model for the future which is fair, robust and transparent, and I urge people to share their views.
Views needed
This consultation seeks views on the principles underpinning the proposed funding model, including what transitional arrangements would be needed if the new formula was implemented for the 2016/17 financial year, subject to securing broad support .
The consultation does not consider the wider policy of reallocating money from the core police grant, for example to the Police Innovation Fund and central policing bodies, nor the overall total or allocation of the Counter Terrorism Grant, which the Government has ring-fenced.
A copy of this consultation will be placed in the House Library.
Published 21 July 2015