News story
Minister for Policing and the Fire Service visits the Police Rehabilitation Centre
The minister for Policing and the Fire Service, Brandon Lewis, visited the Police Rehabilitation Centre yesterday (Tuesday 28 February), at Flint House in Goring-on-Thames.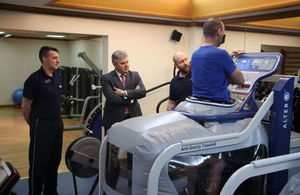 During his visit, the minister spoke with staff and met patients as well as touring the facilities at the centre, which helps both serving and retired police officers who are sick or injured from 29 forces across England and Wales. Each year, the Police Rehabilitation Centre helps more than 3,500 police officers get back to health and return to work.
Minister for Policing and the Fire Service Brandon Lewis said:
I've heard a lot about the excellent work that staff at Flint House do helping support brave police officers, who may have been injured in the line of duty or are in need of help. I was very keen to come down to see their work and to meet some of the staff and patients here and thank them for their efforts.

Police officers and staff do so much to keep our communities safe. Sometimes that means putting themselves in harm's way on our behalf, which is why it is really important that charities such as the Police Rehabilitation Centre are here to support them when they need it most.
Earlier this month, an initiative coordinated by the Police Federation for England and Wales saw the launch of a new website, policecharitiesuk.org, which is part of a new effort from policing charities to improve access and signpost officers, staff and their families in need of support to the correct organisations such as Flint House.
The Police Rehabilitation Centre at Flint House provides individually planned and intensive rehabilitation for police officers and includes healthcare and mental health facilities as well as residential accommodation. It is funded primarily through small weekly donations from serving officers.
The Police Rehabilitation Centre Chief Executive Officer Tom McAuslin said:
I am very pleased that the minister found time to visit Flint House and to see the good work undertaken helping to get ill and injured police officers back on duty.
Published 1 March 2017