Press release
Minister for North Africa Tobias Ellwood comments on attack in Cairo that has killed the Egyptian Public Prosecutor
Tobias Ellwood condemns attack and offers his condolences to families of the victims.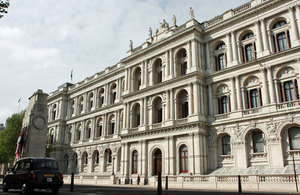 Mr Ellwood said:
I wholly condemn the sickening attack that killed Egyptian Public Prosecutor Hisham Barakat and injured a number of others in Cairo. I send my sincere condolences to the families of all the victims. The UK continues to stand with the Egyptian people in confronting the threat from terrorism and the extremist ideology that inspires it.
Further information
Follow Foreign Office Minister Tobias Ellwood on Twitter: @TobiasEllwoodMP.
Follow the Foreign Office on Twitter.
Follow the Foreign Office on Facebook & Google+.
Published 29 June 2015