Press release
Minister for Middle East and Africa congratulates Zambian President on his re-election
The Minister applauds the Zambian people for their commitment to democracy but notes concerns about conduct during the election campaign.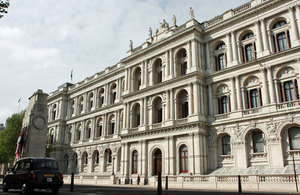 Speaking after the presidential election results were announced the Minister for Middle East and Africa, Tobias Ellwood said:
Congratulations to President Edgar Lungu on his re-election as President-Elect of the Republic of Zambia. The UK looks forward to working with the Zambian government and continuing to build on the strong relationship between our countries.

I congratulate the people of Zambia for their commitment to democracy. I welcome reports from local and international observers that the electoral process was generally well administered, with a high turnout of voters on a peaceful election day. However, I have also noted reports that the election was overshadowed by a troubled campaign period, restrictions on campaigning, and systematic bias in the state media. I hope that the government will address these issues and continue to strengthen Zambia's democratic institutions for future elections.

I encourage all political parties to uphold Zambia's reputation for calm and stability and ensure the peaceful resolution of disagreements through the correct legal channels, to ultimately reinforce Zambia's sense of One Nation.
Further information
Published 18 August 2016